Each year, the Academy selects three outstanding graduating students to serve as postgraduate fellows. The Chubb Group of Insurance Companies is the title sponsor of the program. The Chubb post graduate fellowship is the highest honor the Academy can bestow on its students. Under the program, the fellows have the opportunity to expand the breadth and depth of their artistic prowess while serving as teaching assistants and mentors to a new crop of talented figurative artists. Chubb fellows also receive studio accommodations, exhibition opportunities and a stipend.
Kathryn Goshorn
2015-2016 Fellow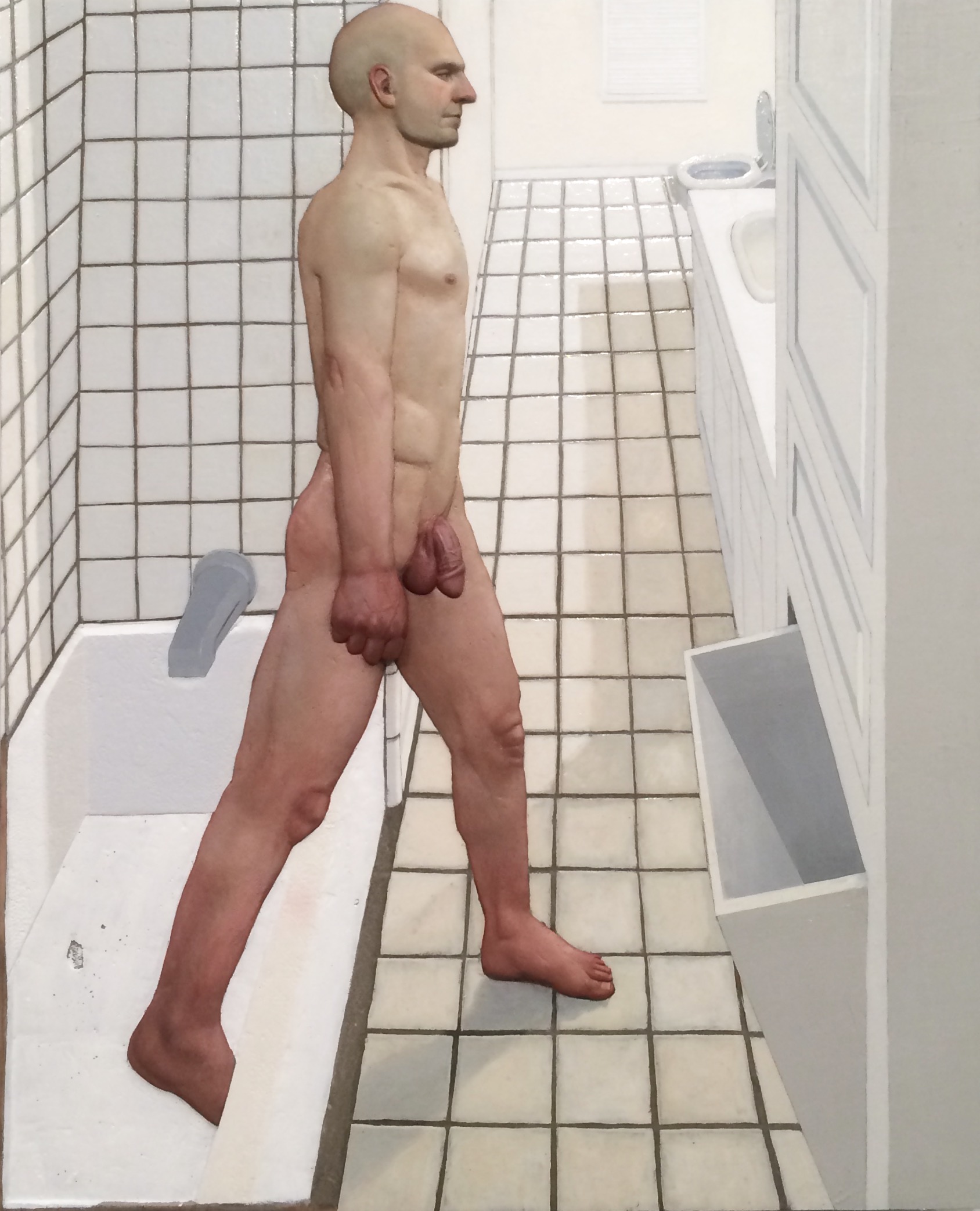 Kathryn Goshorn was born in Greenwich, CT and raised in the suburbs of Atlanta, GA. She received her BFA from the University of Georgia in 2013. Goshorn moved to New York to attend the New York Academy of Art and received her MFA in painting in 2015. While at the Academy, Goshorn was awarded the Séan McCarthy Portrait Scholarship, the Academy Art Merit Scholarship, the LCU Scholarship for Women's Education, and most recently the Chubb Post-graduate Fellowship.
Esteban Ocampo
2015-2016 Fellow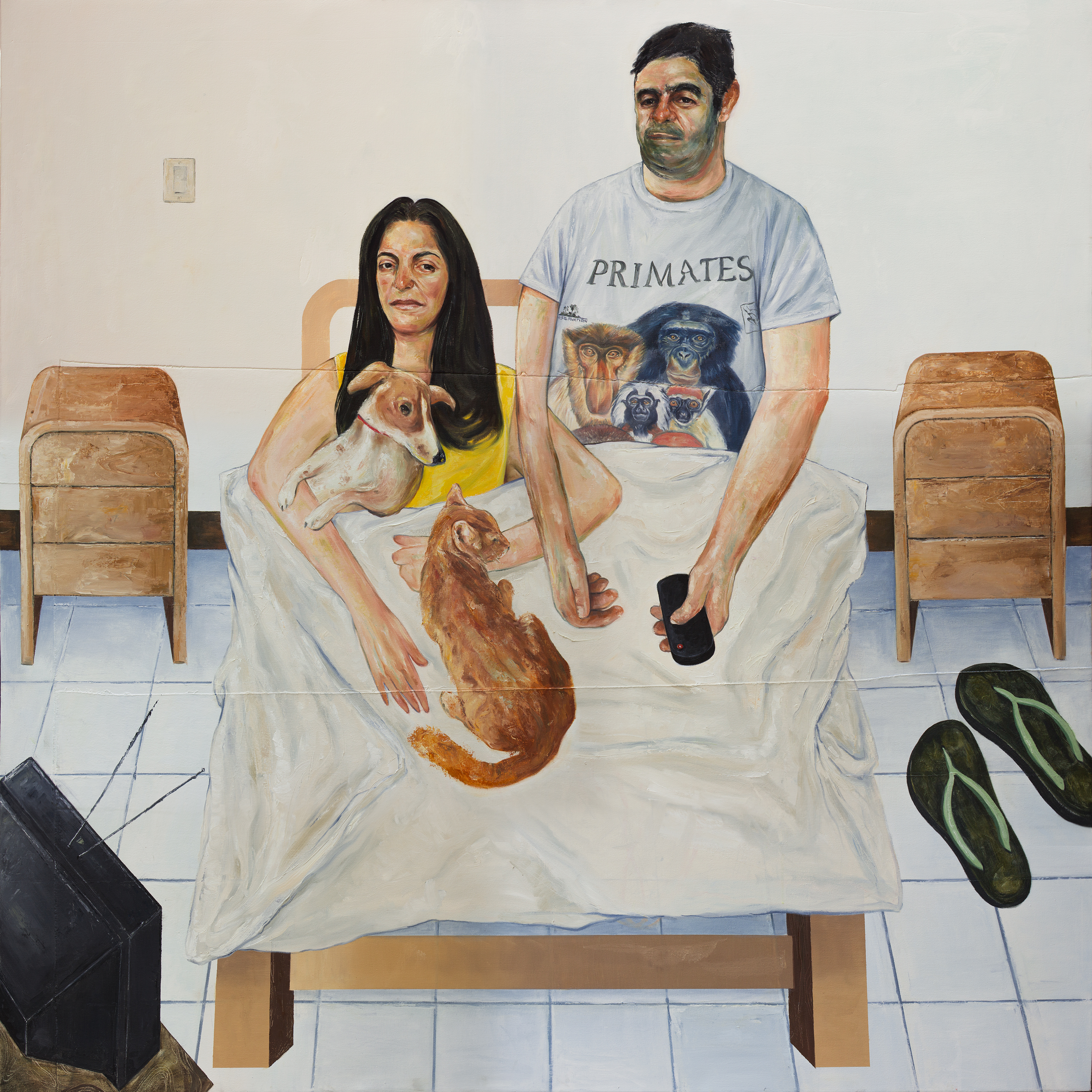 Born in Manizales, Colombia in 1987, Ocampo studied Visual Arts at the Pontificia Universidad Javeriana in Bogota. In 2012, he was awarded 2nd prize in the first National Faber-Castel Drawing contest. He enrolled at the New York Academy of Art in 2013, and was awarded a summer residency to Leipzig, Germany after his first year of study. Upon graduation in 2015, he was awarded a Chubb Post-graduate Fellowship. Ocampo received a Boris Lurie Art Foundation Scholarship for study with the National Academy in Italy during the summer of 2015.
Sarah Schlesinger
2015-2016 Fellow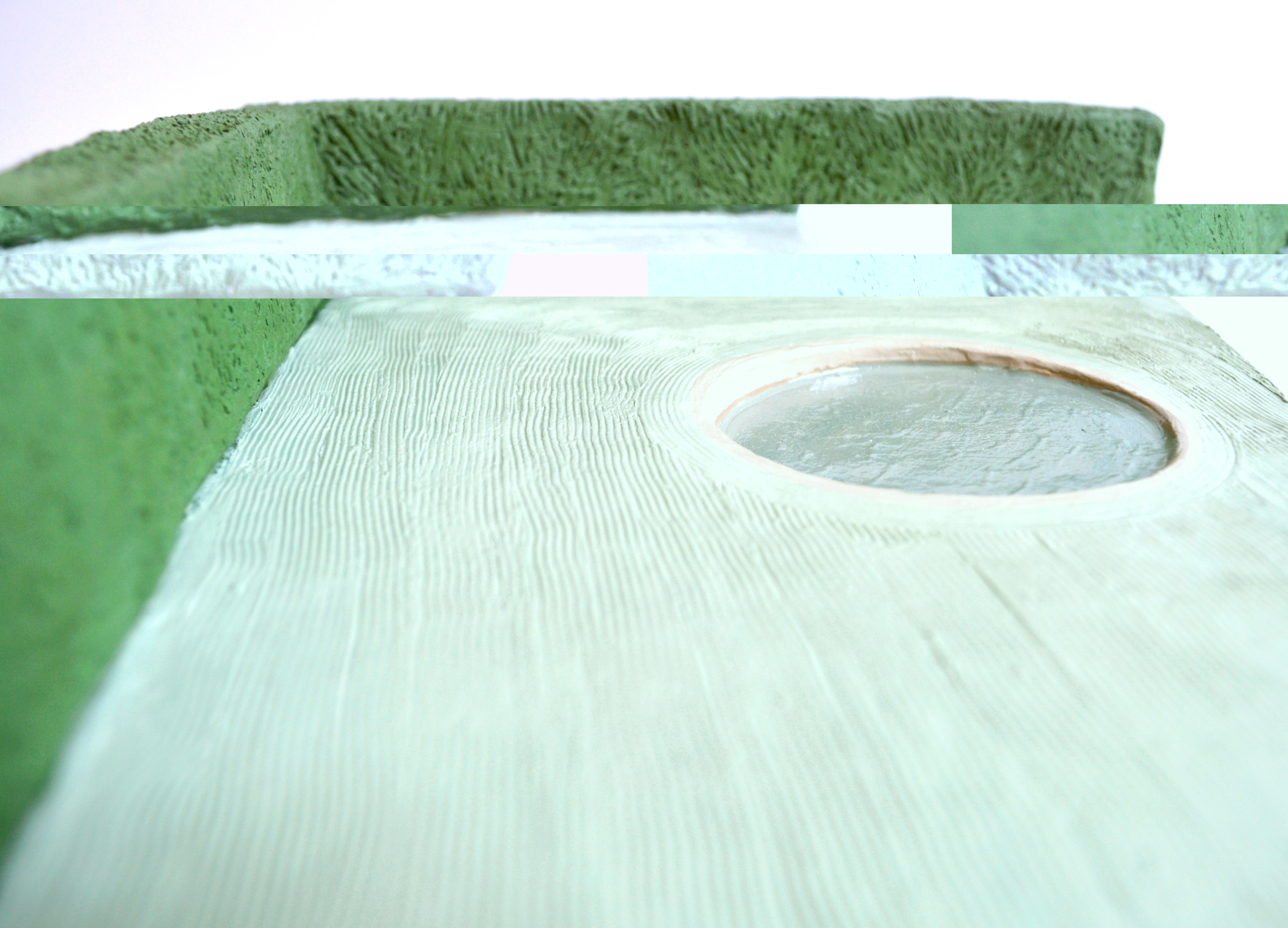 Born in the suburbs of Philadelphia, Sarah Schlesinger received her BFA from Taylor University in Indiana. She moved to New York City in 2012, and received her MFA in Sculpture from the New York Academy of Art in 2015. Working in both painting and sculpture, Schlesinger uses imagery of gardens, boundaries, and landscaping as a way to understand male and female relationships to one another and to the earth.
Schlesinger was awarded the Istanbul Residency in 2014 and was a recipient of The Elizabeth Greenshields Foundation Grant in 2015. She has exhibited in group shows in New York City and on Martha's Vineyard.
Alonsa Guevara
2014-2015 Fellow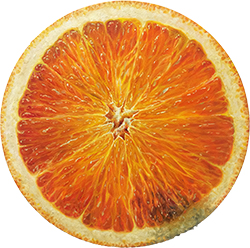 Alonsa Guevara (1986) was born in Rancagua, Chile. She spent 7 years of her childhood living in the Ecuadorian jungle with her family, growing up surrounded by magnificent landscapes and magical environments, and developing a love for light, nature and color. She is a visual artist that works primarily with oil paint. Her paintings are in between two worlds: Fantastical and believable, always full of detail and brightness that illustrate an obsession with realism and mimesis.
Alonsa received her BFA from the Pontific Catholic University of Chile in 2009 where she was awarded the MINEDUC scholarship and the Scholarship of Honor. In 2011 she moved to the United States to learn the language and in 2012 enrolled in the MFA program at the New York Academy of Art. During those two years of study she was awarded with the Terra Foundation Residency in Giverny, France, the Michele and Timothy Barakett Scholarship, as well as the Elizabeth Greenshields Grant. She graduated in 2014 and was awarded the 2015 Academy Fellowship annual residency program. Alonsa has participated in more than 30 individual and group exhibitions including "Second Hand" (2008) at the Chacras de Coria Museum, Mendoza, Argentina; "Where There's Smoke" (2010) at the Museum Casa Colorada, Santiago, Chile; "Take Home a Nude" (2014) at Sotheby's, New York, and others. She currently lives and works in New York City.
Stephen Vollo
2014-2015 Fellow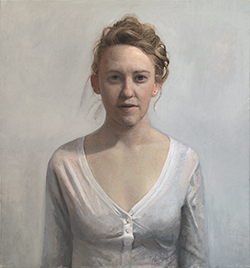 Stephen Vollo was born in Rochester, NY, in 1988. He grew up in the suburb of Webster and earned a degree in Studio Art from the State University of New York at Geneseo in 2010. He moved to New York City in 2013 to attend the New York Academy of Art, where he received his MFA in Painting. Since then, he has been awarded the David Kratz and Gregory Unis Scholarship, a residency at the Terra Foundation for American Art in Giverny, France, and most recently the New York Academy of Art Post-Graduate Fellowship.
Shangkai Kevin Yu
2014-2015 Fellow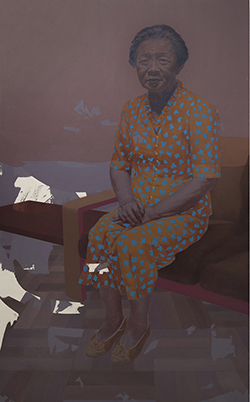 Born and raised in Taiwan, Shangkai Kevin Yu moved to New York for his BFA at Parsons The New School For Design. He continued his studies at the New York Academy of Art, where he received an MFA degree and was awarded the post-graduate fellowship and a residency at the Leipzig International Art Programme. Finding the strange narratives that exist among objects and figures from day to day life and in art history, Kevin utilizes different painting techniques that possess inherent meanings to record and create these narratives on canvas.
Elizabeth Glaessner
2013-2014 Fellow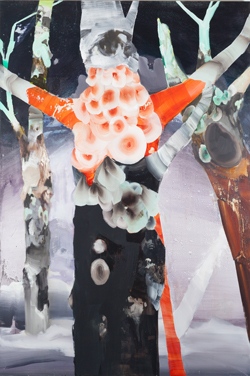 Elizabeth Glaessner was born in Palo Alto, California in 1984 and grew up in Houston, Texas. After receiving her BA from Trinity University in 2006, she moved to New York and completed her MFA at the New York Academy of Art in 2013. She was awarded a postgraduate fellowship at the New York Academy of Art in 2013, a residency at GlogauAIR Berlin in 2013 and a residency at the Leipzig International Art Programme in 2012. She had her first solo exhibition in New York at P.P.O.W. Gallery and has been included in group exhibitions at Louis B. James, Sargent's Daughters and Studio 301 in New York as well as Texas and Germany. Glaessner has recently been featured in the Wall Street Journal, Interview Magazine, the Huffington Post, Berlin ArtParasites and LUUPS Munich and Leipzig.
Working in mixed media, Glaessner creates an uncanny, post-apocalyptic world born from the delicate balance between spontaneity and intention. Elements from the trajectory of history painting are re-contextualized in a contemporary, female vernacular and these evocative landscapes set the stage for highly personal, mysterious narratives to unfold.
Yunsung Jang
2013-2014 Fellow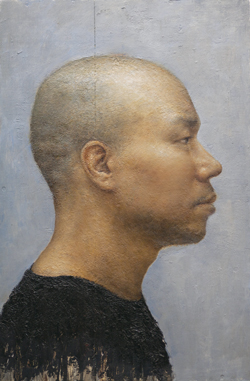 Originally from South Korea, Yunsung Jang studied Fine Art at the Academy of Art University in San Francisco. He moved to New York City in 2011 to attend the New York Academy of Art where he completed his MFA in drawing. He was awarded a Postgraduate Fellowship at the New York Academy of Art in 2013. His work was selected for the BP Portrait Award Exhibition at the National Portrait Gallery in London. He has also exhibited at Kraine Gallery, NY; Art Southampton, NY; Flowers Gallery, NY; Waterhouse Gallery, CA, and Woeske Gallery, Berlin. He has been featured in International Artist Magazine, The Figure: Painting Drawing and Sculpture, and Strokes of Genius 4: The Best of Drawing.
My work is about the reconstruction of memories, built both internally and externally. Internally the work is made from my memory of the subject, the emotion of experience, and through reflection of myself. Because of the constraints of time and space, I can only access one segment of another person, one version of their personality, one environment of their life. These fragments build my experience and memory of a subject. The external construction is more about the expression of presence through physicality, mass, and form. I am interested in how a picture can replicate a living being, interpreting the subject's internal and external qualities in communion with my own. My goal is that this composite becomes a new creation, a new creature. The paintings in this exhibition signify not only my friends, but the uniqueness of my experience of them, and the time and space that we shared in the past.
Nicolas Sanchez
2013-2014 Fellow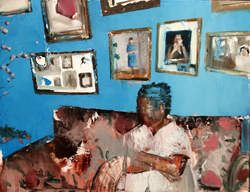 Born in Michigan, Nicolas V. Sanchez received his BFA from Kendall College of Art and Design in Grand Rapids. He moved to New York in 2011 to pursue his MFA at the New York Academy of Art. While at the Academy, Sanchez was awarded the Shelly Malkin Portrait Scholarship, the Aby and Samantha Rosen Scholarship, and most recently the New York Academy of Art Post Graduate Fellowship. He was also selected for a summer long residency in Shanghai and Beijing, China, and a residency in the Dominican Republic where he worked and taught at Altos de Chavon. Since moving to New York, Sanchez has exhibited in group shows at Sotheby's, Flowers Gallery, New Britain Museum of American Art, Allegra LaViola Gallery, Mark Miller Gallery, and a solo show presented by Collier West Gallery.
In his work, Sanchez explores ideas of inheritance, and the identity that is simultaneously lost and gained through legacy. Extracting from his bi-cultural experiences growing up, Sanchez uses imagery from his family's rural Mexican history and the American Midwest to activate a personal sense of uncertainty and familiarity of space.
Jonathan Beer
2012-2013 Fellow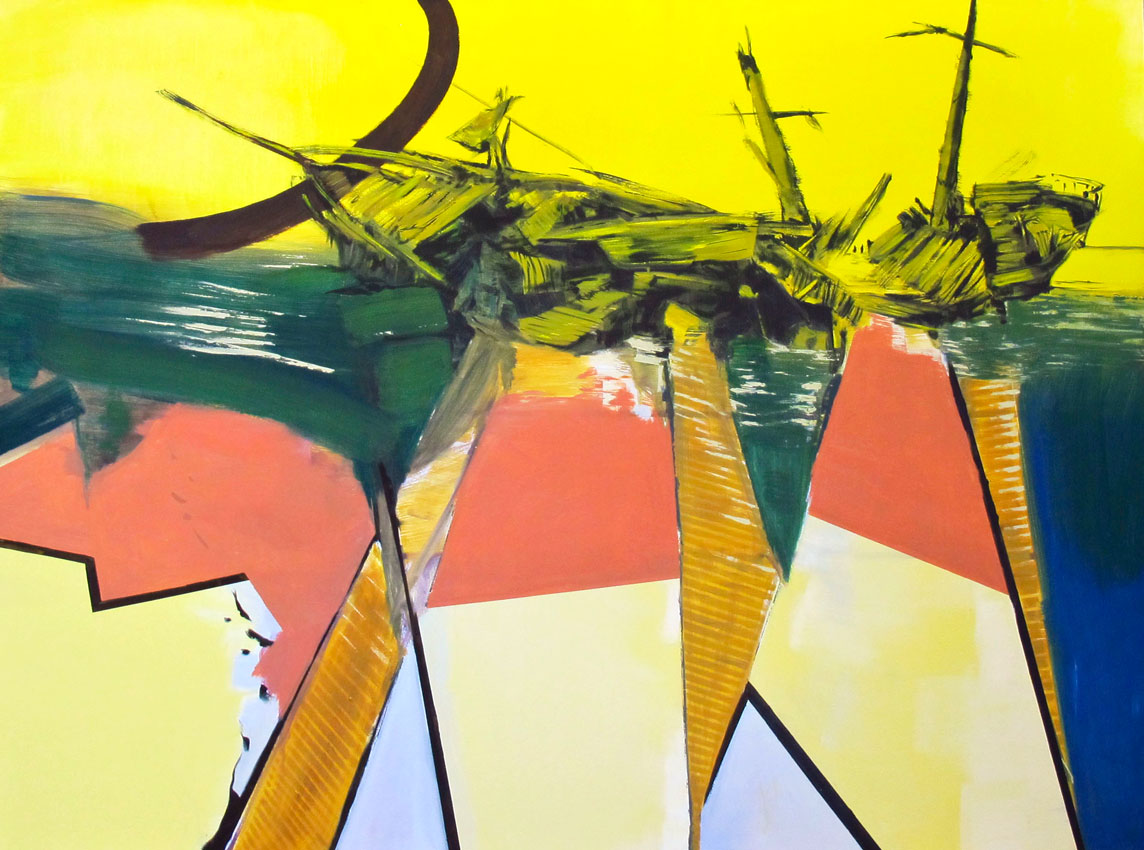 Jonathan Beer is a New York-based artist and writer. Beer was born in New Orleans, Louisiana in 1988 and received his BFA from the School of Visual Arts in 2010 and an MFA from the New York Academy of Art in 2012. He was awarded a 3rd Year Post Graduate Fellowship at the New York Academy of Art in 2012. Beer's has had solo shows at Kathleen Cullen Fine Art in New York, Georgia Tech's Ferst Center for the Arts in Atlanta, and at Albany Molecular Corporation and Bethlehem Public Library, both in Albany NY. He is also working towards solo shows at the Miami Dade Museum of Art & Design, Farleigh Dickinson University in NJ, and the Geisel Gallery in Rochester, NY. His work has been exhibited internationally at Galerie Delta in Rotterdam, the Netherlands and at the Siauliai Art Gallery in Siauliai, Lithuania. His group exhibitions include shows at Sotheby's, Sloan Fine Art, Boltax Gallery, Flowers Gallery, MUSE Center for Photography and the Moving Image, Theaterlab, The Puffin Room, and the ArtNow Fair, all in New York. Beer has been featured in ArtNews, Artslant, NY Art Beat, the New American Paintings Blog, Studio Visit Magazine, Art Takes Miami, and Professional Artist Magazine. In addition to his career as a fine artist, Beer has been pursuing a career in critical writing. In 2010 he co-founded Art-Rated, a blog dedicated to articles and interviews on contemporary art. In addition to Art-Rated, he is a contributing writer for the Brooklyn Rail, ArtWrit, and Art Observed.
Jonathan Beer creates paintings that examine how the human mind constructs its own versions of reality. His art is a hybrid of representational forms and abstract components. Beer's work combines art historical imagery, diagrams, architectural spaces, landscape forms, and patterns, bringing together a myriad of highly charged, culturally symbolic components in one space.
Aleah Chapin
2012-2013 Fellow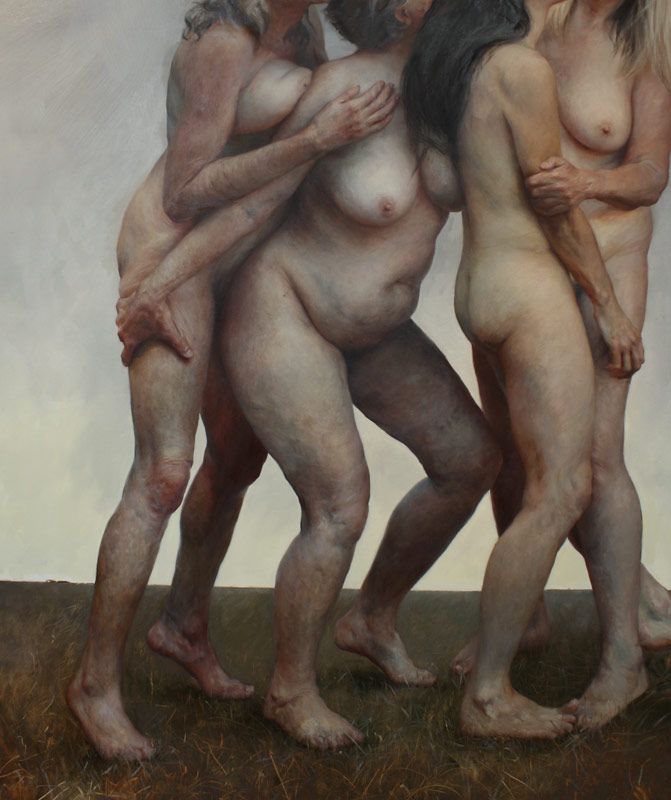 Born in 1986, Aleah Chapin grew up on an island north of Seattle. After receiving her BFA from Cornish College of the Arts in 2009 she moved to NYC to complete her MFA. Since then, Aleah attended a residency at the Leipzig International Art Programme in Germany and in the fall of 2013 she will be a Fellow at the MacDowell Colony in New Hampshire. Aleah has been the recipient of several awards including the Posey Foundation Scholarship and the Elizabeth Greenshields Foundation Grant. Most recently she won first place in the BP Portrait Award Exhibition at the National Portrait Gallery in London. She has exhibited her work in the US, the Netherlands, Germany and the UK. Though Aleah currently lives and works in New York City, the place and people of her childhood are the subjects of her work. It is through this personal lens that she aims to discover stories that are beyond her own experience.
Nicolas Holiber
2012-2013 Fellow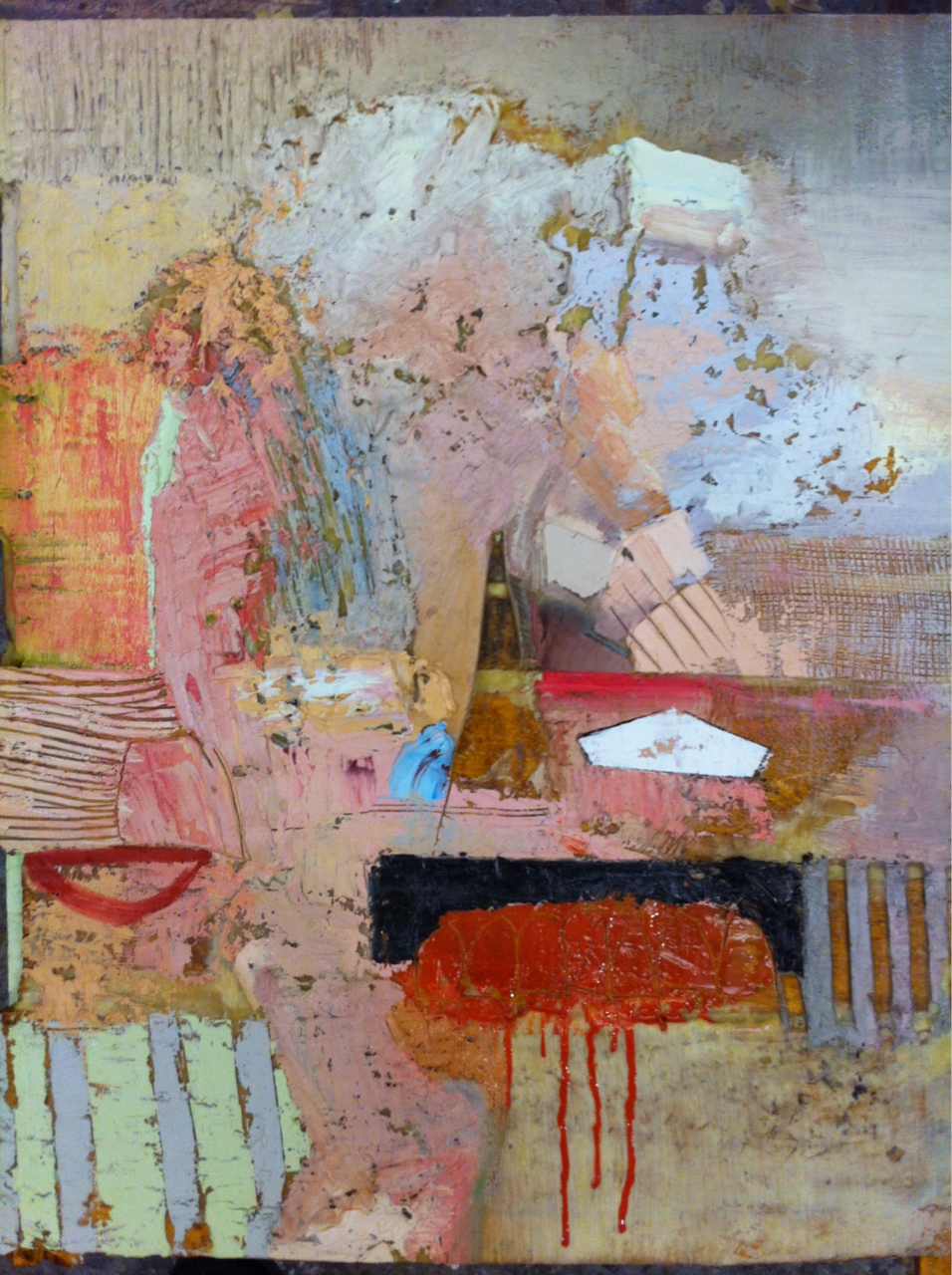 Born in 1985, Nicolas enjoyed a raucous childhood growing up alongside his two brothers in a small town outside of New York City. After attending the University of Vermont where he studied painting and ceramics, Nicolas moved to NYC to pursue his MFA degree. First enrolling as a continuing education student at the Academy, he was accepted into the Graduate Program in 2010. Holiber was awarded a residency at the Leipzig International Art Programme and the Vasari Classic Artist's Oil Colors Prize in 2011. He has exhibited in New York and Germany, and has recently been published in BOYGIRL Magazine, LUUPS Frankfurt, Alt. Variety Magazine, and American Artist. Holiber's art encompasses a wide range of materials including oil paint, wax, wood, animal hides, bones, and found objects.
Emily Davis Adams
2011-2012 Fellow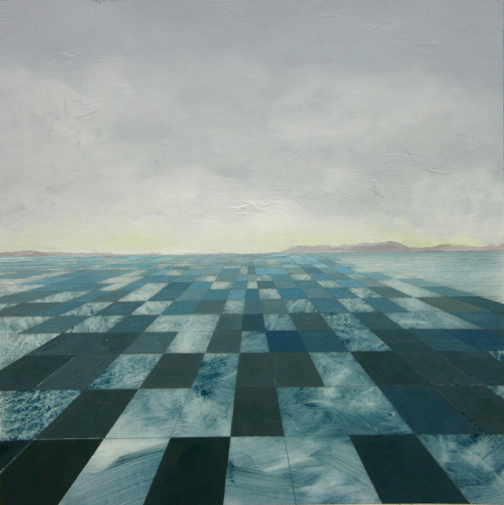 Born and raised in Northern California, Emily Studied art at the UCLA School of the Arts and Architecture, UC Berkeley, and San Francisco City College. She earned a BS in Environmental Policy from UC Berkeley's College of Natural Resources and lived in the Southwest before moving to New York City. The art she encountered in the desert, from earthworks to Minimalist painting, has continued to influence her own work, which examines particular locations in the country through detailed representation of infrastructural elements, formalist statements of color and light, and the way in which the two interact to give the sense of familiarity and place.
Ian Healy
2011-2012 Fellow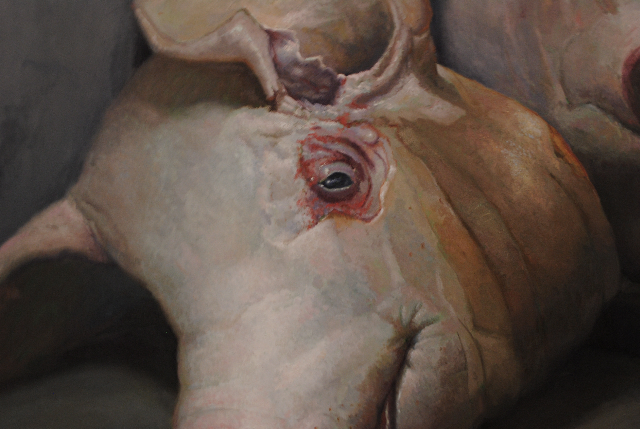 A Rockland County, New York native, Ian graduated with a degree in Marketing from Pace University. Ian's initial interest in art brought him to a local tattoo shop where artist JR Maloney took Ian in as a drawing student. Later on Ian was introduced to former New York Academy of Art faculty Hong Nian Zhang and Louis Woolley. Both had a strong impact on Ian's Growth as an artist. Ian was encouraged to develop his skills and talents in graduate school, being pushed to apply at the New York Academy.
Ian's interest in "raw animals and dead meat" emerged during a residency in Giverny between his first and second year of graduate study. There he witnessed "life turning to death" in the butcher shops and open-air markets of the region. He returned to New York with an intense interest in death, decay, and the decomposition of life, a perspective you can see in his current fellowship work.
"Ian's paintings are a process of intimate contemplation and investigation. The disturbing expression in these pieces derives in part from his honesty in the experience and representation. These paintings are about food and life, how we deal with and deny the physical substance of being."
Aliene de Souza Howell
2011-2012 Fellow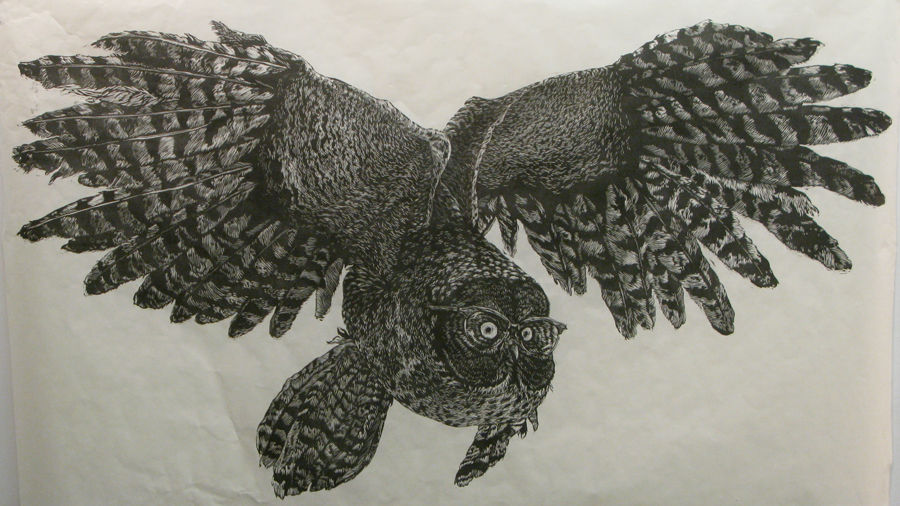 I think that animals and the objects we use in our daily lives can provide openings for us to access our own humanity. I strive to be analytic but also empathetic in searching for these aspects of makes us human.
I was honored to be chosen for a funded two month residency in Leipzig, Germany in 2010 which has had a significant impact on my work. The fellowship at the New York Academy has provided me time to emerge as a printmaker from a background in painting.
I received my BFA from Guilford College in Greensboro, North Carolina. I was born and raised in Nashville, TN to a Brazilian Physical Education teacher and a Welsch pyschologist. I have also studied in London and Rome. Currently, I reside in Ridgewood, NY.
Maya Brodsky
2010-2011 Fellow
Born in Belarus and raised in Brookline, Massachusetts, Maya received Bachelors degrees in painting and philosophy from the University of Massachusetts Amherst in 2008 before attending the Academy. Her paintings are inspired by notions concerning the connection between past and present and how one's memory of the past is formed and changed visually. She hopes to allow viewers a glimpse into her personal vision and depict that which she considers ephemeral and therefore precious. By depicting the specific form of her personal experience, she hopes to protect it from the obscuring effects of time, as well as to imply the existence of something that transcends the particular forms of her subjective reality.
John O'Reilly
2010-2011 Fellow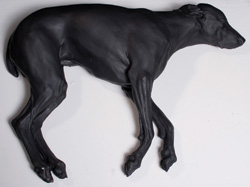 From Columbus, OH, O'Reilly received a BFA from the Columbus College of Art and Design. After a year of attending New York Academy of Art, he was awarded the Leipzig International Program in 2009 and exhibited internationally there. John has exhibited in group shows at galleries including Danese in Chelsea NYC. O'Reilly's work focuses on universal parallels. His work explores a wide range of issues from comparative vertebrate anatomy to sociology, psychology, genealogy and familial development. Through the manifestation of drawing and sculpture, his work asks theviewer questions of perception in how we as human beings relate to one another.
Austin Park
2010-2011 Fellow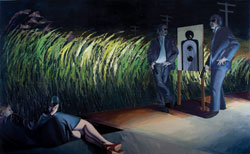 Austin Park grew up in Ft. Pierce, Florida and received his BFA from the University of Florida in 2003. He has always been interested in how we adapt to society over time and the modern rituals we create for ourselves His recent work is influenced from his time spent living and working in the Miami area , enamored by the collision of nature and the modern artificial world. He prefers the use of acrylics and mediums for the sense of immediacy and constructs images in plastic that reflect this dual reality. During the course of his fellowship he intends to continue using environment and figure as symbols in dialogue with each other, while still exploring the vast technical possibilities acrylics and mixed media can offer.
Peter Simon Mühlhäußer
2009-2010 Fellow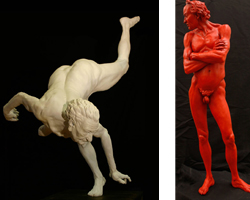 Peter Simon Mühlhäußer was raised in Southern Germany in a small town near Stuttgart. In 2003, he completed courses at the Technisches Gymnasium BSZ Öde Göppingen. From 2004 to 2007, the artist studied at the Johannes Steinhäuser in Lasa, South Tirol, Italy, where his practice in "lasa-marble" earned him degrees for both Stonemason and Stonecarver. In May 2009, Mühlhäußer received an MFA from the New York Academy of Art, graduating cum laude and earning the Walter Erlebacher Award for excellence in anatomy, in addition to the Postgraduate Fellowship.
Panni Malekzadeh
2009-2010 Fellow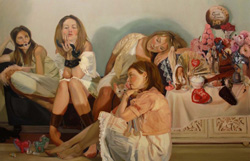 Panni Malekzadeh was born 1984 in Los Angeles, California. Her work has always been about things in herself that she feels incredibly uncomfortable with and embarrassed by. She explores the vulnerability, shame and isolation of the adolescent girl in herself and ones around her. She exploits what's dangerous and what scares her about herself. She collects, she hoards, her work has some kind of delicate profanity, and a certain over-passivity… including a jade dildo, this beautiful new pearl cock ring… and butterflies and kittens too of course. She currently lives and works in New York City.
Will Kurtz
2009-2010 Fellow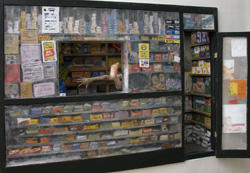 Will Kurtz was born in Flint, Michigan and received his Bachelor of Landscape Architecture from Michigan State University in 1981. He practiced as a landscape architect until he began creating art as a self-taught artist at the age of 40. He recently returned to school, graduating magna cum laude with an MFA from the New York Academy of Art at the age of 51. Often drawing upon memories of his past, Kurtz's work is highly personal, and seeks out a certain sincerity and rawness of human beings in a tender and humorous way.
Matthew Miller
2008-2009 Fellow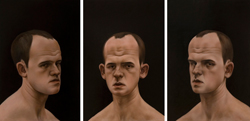 From Lancaster, PA, Miller received his BA from Messiah College before attending the Academy. He has been actively showing for the last two years in New York, and worked as assistant to the director at Pocket Utopia, a project space in Brooklyn. He also works part time for the Judd Foundation and teaches a CE course at the Academy. In his work, Miller channels the theatrical pretense of portraiture through a provincial American painting sensibility. His figures direct their deadpan gaze at the picture plane, the site of the methodological drama, where the portrait's shallow space and the panel's surface break into dialectical interplay.
Phillip Thomas
2008-2009 Fellow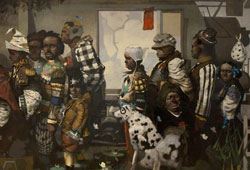 From Kingston Jamaica, Phillip Thomas received his BFA in 2003 from the Edna Manley College of the Visual and Performing Arts, where he was awarded the Albert Huie award for painting. He has been involved in numerous group shows, including the 2008 Jamaica National Biennale, where he received the Aaron Matalan award. For education he was given grants from CHASE and the Cobb Family Foundation. In his work Phillip intends to manufacture cultural reliquaries of the Caribbean and the wider "new world", using mediums and other agents of the old world.
Annie Wildey
2008-2009 Fellow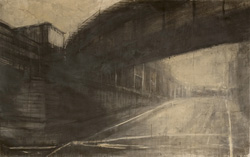 Born in the UK, Annie earned her BA from Kingston University and an MFA in painting and printmaking from the New York Academy of Art. She was a Joan Mitchell Foundation Grant Nominee, and received residencies in Balleroy, France, and St. Barths, FWI. Most recently, she was awarded a year-long residence at the William Steeple Davis House in Orient, Long Island. Ms Wildey's current work looks for elements of the sublime within the voids, underpasses and accidental environments created by urban commercial architecture.